Everything Everything were the first band I ever interviewed, and other than horrific ladrock Oldham failures Twisted Wheel and excellent US indie riffmongerers Fang Island, the only one. Since then, they've enjoyed a UK Top 20 album, a Top 40 single, vast Radio 1 daytime play, undergone a line-up change, toured the world supporting bands like Muse and Snow Patrol and have played just about every festival going. I caught up with bassist Jeremy to ask him how things have progressed as we move increasingly closer to the release of their second long-player 'Arc'. Of course, we can't realistically go through our lives only ever interviewing the popular 'Cough Cough' stars, but hopefully this stands as a worthwhile companion piece to this from 2009.

What can someone who has only heard the two singles expect from the new album both musically and lyrically?

As with 'Man Alive' I don't think any one track contains the clues to rest of the album. It's still pretty varied across the whole record. But we've tried to tighten up the songwriting and be generally more direct and less indulgent, to have variation between songs now and less within them! I think we've managed that, at least in part, and hopefully done so whilst still retaining the iconoclasm and idiosyncrasy that people liked in the first place and that is basically our identity.

Is 'Arc' a huge departure from 'Man Alive' or more of a complimentary companion?

If it's either then it's a companion. I don't think anyone who was familiar with 'Man Alive' would be hugely surprised by this record. It's a natural maturing, or distillation of the myriad ideas we set out on 'Man Alive'. 'Arc' is generally less uptight. We've really relaxed over some things, like staying in one place for more than 16 bars!

How have you been finding the touring treadmill? Has it made it more difficult to write?

We made 'Man Alive' in January and February 2010, then toured for seven or eight months before it came out (including while we were mixing it which was a nightmare we swore not to repeat), then toured again for further year, on and off. So by the time it came out we were aware that it we would have to grab the time to write between touring trips whenever we could. We started with 'Kemosabe' about 6 weeks after 'Man Alive' came out, then we'd book ourselves one or two week blocks to work on Jon's demos together in the rehearsal room when we weren't on the road throughout 2011. He wrote a little bit on the road but doesn't really make a habit of it so was mostly doing so alone at home during downtime, then we'd all knock the song into shape together, add bits, take bits away, create the arrangement as a live band. We wrote at least 3/4 of the record this way, with a few loose ends left deliberately for the studio. Looking back at it now, it was uncharacteristically disciplined.

Have your tastes developed since the first album? Have your influences changed?

People have asked us what influenced 'Arc', and it's not surprising as 'Man Alive' wore its influences on its sleeve, but we don't really have a straight answer. It was a pretty insular affair. As ridiculous as it may sound we were listening to ourselves more than anything. Having toured 'Man Alive' for two years and having been through the whole process once from beginning to end we knew ourselves and each other, both as a band and as individuals, better than ever. We were aware of what songs and aspects of that period had endured for us, what we still liked, what we wanted to retain and what we wanted to leave behind. The biggest influence on 'Arc' is 'Man Alive'.

'Cough Cough' reached the Top 40 – how did you feel about this, and is it a constant balancing act to remain innovative yet still compose accessible material?

We were undeniably thrilled. We weren't sure if we'd ever have a top 40 single and for all we know we may never again. We definitely weren't expecting 'Cough Cough', which we thought of as a bold introductory statement but not particularly radio friendly, to be our first. It is a balancing act but i think that's the greatest challenge in pop and produces the best, most enduring music. (I am reminded of this as I write this, listening to 'Rubber Soul'!). We barely attempted it on 'Man Alive'. We've always loved and prioritised melody and i think that made it easy enough for some people to love. But we've become much better at honing things.

Will you still be incorporating many older tracks into your sets or are you focussing on the newer material?

It will, at least until the summer, be pretty 'Arc'-heavy. We'll try to pay 12 of the 13 tracks live, perhaps not all 12 every single night. We have to do that, we have to see how the songs react now that people know them, it has an effect on our relationships with the songs. But we'll still be playing plenty of 'Man Alive' stuff too. We recently resurrected 'Two For Nero' at the few headline shows we played at the end of last year and really loved playing that again.

How do you feel about the state of both pop and more leftfield music currently, or indeed culture in general? Could popular culture do more to reflect the current political and social climate? Is this something your music tries to address? 'Cough Cough' did seem to be a rather urgent and somewhat apocalyptic track both musically and lyrically.

I see very little good in mainstream pop now. It's still there every now and then of course. And mainstream pop's far-reaching penetration makes it all the special when something as municipally joyous as (off the top of my head, for want of a better, more modern example) 'Single Ladies (Put A Ring On It)' happens. In general I think music is as good or as bad as it's ever been. It all depends on what your relationship is with the culture at the time. These periods or epochs or scenes or whatever only seem to coalesce properly in retrospect anyway. Popular culture could certainly do more to reflect the current political and social climate. But it's understandably daunting for most artists, as it tends to pigeon-hole you (like Billy Bragg) and it's not like we can offer any answers. 'Cough Cough' was certainly influenced by the growing sense of unfairness in this country, the growing gap between rich and poor, the invasiveness of money and marketing, and, on a global level, the inherent unfairness of Western Capitalism. It also recognises our own collusion in all this, as a band, a band signed to a major label, and as Western middle-class men.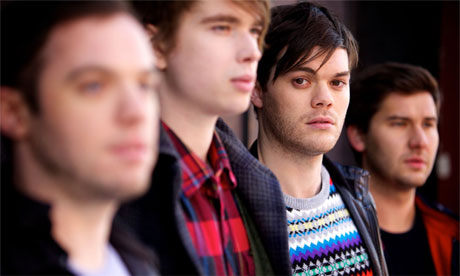 How are your relationships with other bands?

We hang out with Delphic and Dutch Uncles a bit cos they're local and good people and good bands. We were sort lumped together as a scene before wanting to recognise it ourselves. We know loads of people to say hello to and have a chat with. Coldplay lent us a Fairlight CMI for Arc…

How does the reality of being in a successful band compare to your expectations?

We wanted to do this for a living and we just about do, but beyond that we hardly had any expectations, so we're not disappointed by anything really. We'd like to sell more records, but that's an industry-wide problem.

What have you learned about the world since album #1?
We've got better at looking after ourselves and each other on the road. But we're still learning about all that. One of the drawbacks of being in a band is that it's incredibly infantalising. In some ways I feel like I stalled at the age of 23 in terms of personal development… I accidentally learned to play the ukelele. I recognise that this is dangerous...

Is there much leftover material from the last few years or were old ideas incorporated into new ones?

One or two bits and pieces on 'Arc' actually pre-date 'Man Alive', things we couldn't find a home first time round but still liked. There were and are other bits floating around. Our (frontman) Jon has written one or two things since making 'Arc', but the next record is the furthest thing from our minds for the time being. We were sort of creatively exhausted by 'Arc', in a pleasant way. We're concentrating on making the live show as good as possible.

What are your plans for 2013?

Touring the UK, Europe and the USA, hopefully getting to Japan and Australia at some point too, loads of festivals, a couple more singles, more touring. It's going to be busy.